A few ways you can support the project…

1. You can spread the word.

Join the discussion over on our Facebook page!
If Twitter's your thing, our hash tag is #birthstoryproject
Anna is available for interviews or quotes– please feel free to email info@annakunnecke.com.
2. You can get a button.

Choose a button below and put the html code on your site.  Tell your readers, your friends, your family — everyone.  Our stories are powerful.
Button Number One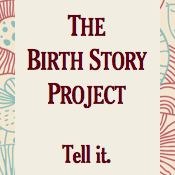 Copy the html code for your site
<a href="http://www.birthstoryproject.com"><img src="http://www.birthstoryproject.com/wp-content/uploads/2010/12/BSP_Revisions.002.png" alt="The Birth Story Project" align="middle"/></a>
Button Number Two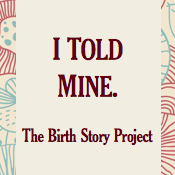 Copy the html code for your site
<a href="http://www.birthstoryproject.com"><img src="http://www.birthstoryproject.com/wp-content/uploads/2010/12/BSP_Revisions.003.png" alt="The Birth Story Project" align="middle"/></a>